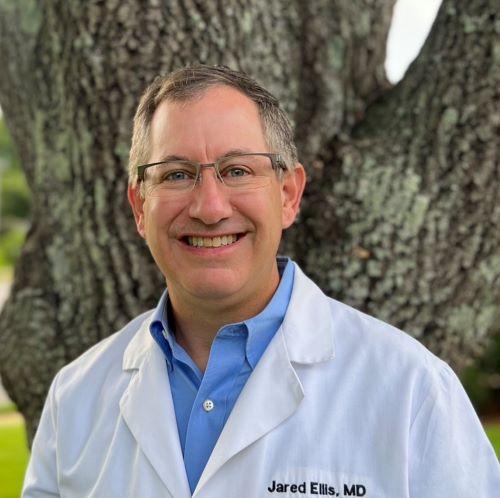 Jared Ellis, MD
Primary Care Physician
Dr. Ellis is board certified in Family Medicine and Hospice and Palliative Care and specializes in providing high value evidence-based Primary Care. In addition to preventive medicine for men and women, he treats a broad array of medical conditions in patients of all ages. He has special interests in the management of migraine headaches and various mental health conditions, diabetes, hypertension, heart disease and cholesterol. He provides a wide variety of office procedures including joint injections, skin biopsies and contraceptive inserts. He is known for his compassionate, patient-centered approach to care.
Dr. Ellis graduated from the University of Alabama School of Medicine and attended residency at the University of Alabama – Huntsville / Huntsville Hospital Family Medicine Residency. He brings over 27 years of experience, having worked in private practice and academic settings prior to joining Novus Neurology. He and his wife Shannon have lived in Tuscaloosa for over 11 years and have three children.
In his free time, Dr Ellis enjoys being outdoors, whether in Tuscaloosa or at his farm in Pickens County. He enjoys traveling internationally to visit his daughter and son in law in Honduras and leading medical mission trips to Kenya, Africa.
Along with providing a wide array of primary care services, Dr Ellis has offered various elective skin procedures such as biopsies or excisions (removal) of various moles, cryotherapy of warts, skin tags and other benign skin lesions since 1995. More coming soon!
Forms